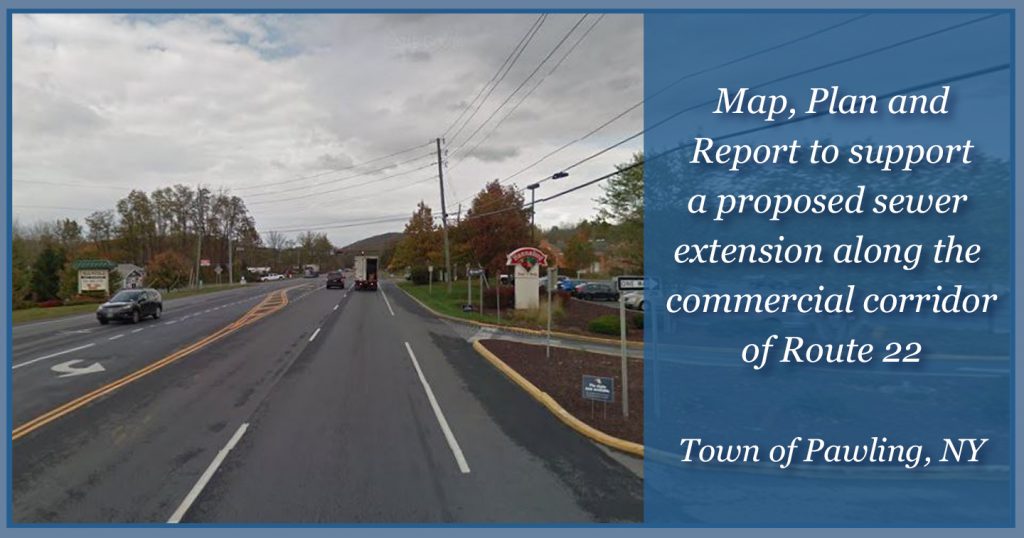 Laberge Group was retained by the Town of Pawling, NY to develop a Map, Plan and Report to support the extension of sewer services along a segment of Route 22. The planned extension would serve to improve the quality of life for area residents, while simultaneously supporting the Town in its efforts to attract, retain, and expand development opportunities within the East-of-Hudson Watershed.
In developing the Map, Plan and Report, Laberge Group will evaluate the feasibility of providing the proposed infrastructure by examining the technical requirements of designing and installing the sewer services, as well as the potential benefit and cost impact to those who will be served by the new infrastructure. Toward that end, Laberge Group will conduct an Alternatives Analysis which will enumerate multiple feasible approaches to the proposed extension. The firm will then provide the Town of Pawling with a description of each prospective alternative, including insights into the advantages and disadvantages, an opinion of cost (including operation and maintenance costs), as well as non-monetary considerations. After a thorough review of each alternative, Laberge Group will provide a professional recommendation as to the best solution.
Additional investigations and efforts to support the development of the Map, Plan and report will include:
A review of potential environmental constraints (such as wetlands, cultural resources, endangered species, water courses, and soil condition).
An examination of the need for – and/or potential benefits of – the sewer extension (including a description of the current site conditions, site septic failures, known compliance issues, projected future needs as they may affect water quality, sanitary conditions, economic development concerns, and more).
Coordination with the Town and Agencies to determine district boundaries and will collaborate with special district counsel regarding options for Special Sewer District formation.
The resulting Map, Plan and Report will deliver technical, cost, and benefit information and analysis that will assist the Town Board and the community of Pawling to make an informed decision as to both the feasibility and the efficacy of the proposed extension of sewer services.