Planning & Community Development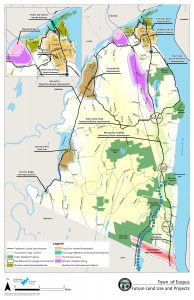 The Planning & Community Development team at Laberge Group is well-rounded with staff from various business, planning, and marketing backgrounds. Laberge Group is experienced in identifying and addressing the needs and interests of the community. We consider personalizing the project for every client part of our service.
Plans developed with Laberge Group focus on the local and regional economic climate and trends of a community. Economic Development is research-based and driven by the market; therefore, our Plans act as a guide or "blueprint" for the future of a community.
Laberge Group identifies actions to implement and procedures to develop economic development strategies. This method assists in creating a direction-oriented management plan, focusing on the short and long term goals of a community. The Laberge Group strategy is to create achievable plans. Each plan incorporates specific activities, including:
Economic Profile
Community Resources Inventory
SWOT Workshops
Goals and Strategies
Implementation Plan and Action Matrix
Laberge Group's location in the Capital Region connects communities with State and Federal programs. Economic Development builds relationships with Local, State, and National agencies. Laberge Group is committed to creating successful relationships.