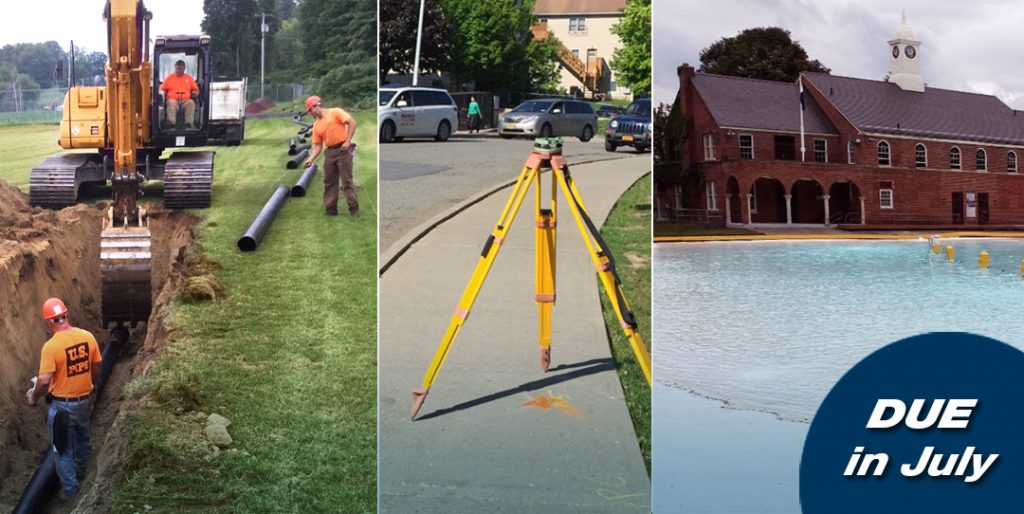 Don't miss out – the deadline to submit a CFA for your economic and community development projects is around the corner.
Last year more than $763 MILLION was awarded to stimulate economic growth and create or retain jobs in New York State through Consolidated Funding Applications.
Funding for the 2019 CFA is about to be announced.
Will your community benefit this year?
The CFA can be used to apply for funding that makes a wide range of community and economic development projects possible. This versatile application has helped communities create jobs and bolster their local economies by providing access to funding for the implementation of projects as varied as:
Water Treatment Improvements;
Wastewater Treatment Plant Improvements;
Water, Wastewater, and Stormwater Engineering Studies and Reports;
Sewer System Improvements;
Special District Creation and Consolidation;
Stormshed and Outfall Mapping;
Land Acquisition for Water Source Protection;
Salt Shed Design and Construction;
Sidewalk Improvements;
Development, Conversion, or Expansion of Industrial or Manufacturing Facilities;
Purchase of Industrial or Manufacturing Equipment or Machinery;
Facade Improvements;
Micro-enterprise Initiatives;
Development and Improvement of Visitor Centers, Concert Venues, and Other Tourist Attractions;
Waterfront Revitalization;
Bike and Pedestrian Trail Expansion or Improvement;
And many more.
If any of these initiatives is on your community's agenda, consider whether the CFA is the right path to securing the necessary funding. This may be your opportunity to move a project from planning to implementation.

Laberge Group partnered with clients to secure more than
$8 MILLION in CFA funding in the last 3 rounds.

Congratulations to these Laberge Group clients:
Village of Cambridge – Wastewater Preliminary Engineering Report, $78,000
Village of Corinth – Wastewater Preliminary Engineering Study, $1,000,000
Village of Corinth – Wastewater Treatement Plant System Improvements, $1,000,000
Village of Fultonville – Wastewater Treatment Plant Upgrade, $900,000
Village of Corinth – Functional Consolidation of Water System Operations, $400,000
Village of DeRuyter – Water Treatement Improvements, $489,000
Town of Catskill – Code Enforcement Consolidation, $12,000
City of Cohoes – Sidewalk Improvements, $300,000
City of Cohoes – Visitor Center Creation, $62,000
Town of Schodack – Stormshed Mapping, $1,000,000
City of Albany – South End Bikeway, $650,000
Village of Corinth – Sewer Force Main Improvements, $1,000,000
City of Albany – Bikeway Improvements, $150,000
City of Albany – South End Trail Connector, $200,000
City of Cohoes – Remsen Sidewalks Improvements, $300,000
Town of Rotterdam – Acquisition for Source Protection, $48,750
Town of Schodack – Outfall Mapping, $18,675
Town of Highland – Salt Shed, $624,750
City of Albany – Lincoln Pool Park, $262,500
City of Albany – Lark Street Feasibility Study, $20,000
City of Albany – North South Waterfront Gateway, $340,000
Town of Esopus – Local Waterfront Revitalization & Hamlet Plan Project, $75,688
City of Hudson – Wastewater Pump Station Improvement Project, $263,736
Village of Kiryas Joel – Microenterprise Project, $200,000
WILL YOUR COMMUNITY BE NEXT?

Don't miss this opportunity to secure funding for an economic or community development project that could benefit your community for years – or even generations – to come. The CFA could be the difference that takes your project from concept to reality.

To request a free no-obligation phone assessment to discuss whether the CFA is a good fit for your community or project, click here or call Ben Syden, AICP, Vice President at (518) 458-7112.
Don't delay – the July deadline is around the corner.