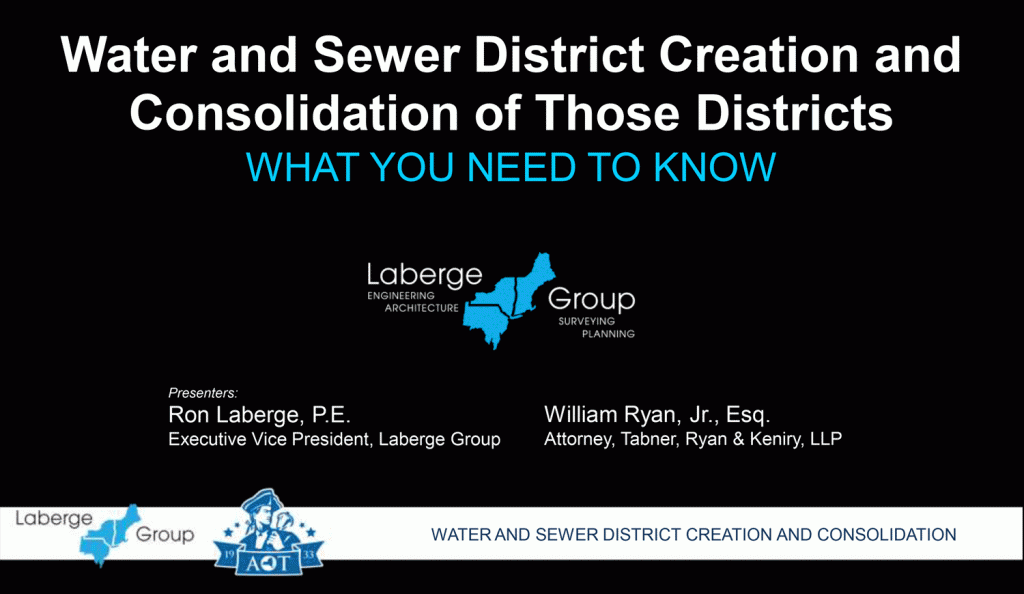 There are logistical, legal, and technical hurdles to creating new water and sewer districts or consolidating existing districts. While this process can be daunting for community leaders, special district creation and/or consolidation is an essential component of many government efficiency initiatives. The good news is that you don't have to navigate these complicated initiatives alone.
Both Ronald Laberge, P.E., Executive Vice President of Laberge Group and William Ryan, Jr., Esq., Attorney at Tabner, Ryan & Keniry, LLP have years of experience in partnering with cities, towns, and villages throughout New York State to create and consolidate water and sewer districts. The two recently shared their collective expertise on this topic at the NYS Association of Towns (AOT) Annual Meeting. Community leaders from across the state learned about:
Legal requirements for forming special districts
Consolidating those districts according to the General Municipal Law
Drafting of the map, plan and report to the final hearing
Incorporating those requirements issued by the Office of the State Comptroller
Applying for various grant opportunities
And more…
View the full presentation HERE.
If your community is considering water or sewer district creation or consolidation, YOU DON'T HAVE TO NAVIGATE THE PROCESS ALONE! To discuss how insights from this presentation can benefit your community, call Ben Syden at (518) 458-7112 or contact us at clientservices@labergegroup.com to schedule a free conference call.