Congratulations to the Village of Corinth on winning First Place at NYCOM's Local Government Achievement Awards! They received this prestigious award for identifying and implementing an innovative solution to a challenge that impacts municipalities throughout the State of New York.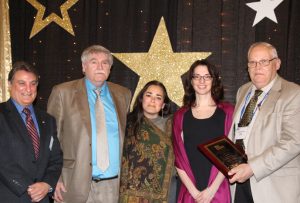 Like so many municipalities Statewide, the Village of Corinth faced a formidable list of projects necessary to upgrade and repair their aging and deteriorating water, stormwater, and sanitary sewer infrastructure. Lacking the funds to proceed with an estimated $36.6 million in rehabilitation projects, the Village Board of Trustees took a pragmatic approach by retaining Laberge Group to assist in developing an Infrastructure Improvement Program.
Laberge Group delivered a plan that prioritized infrastructure improvements, evaluated a potential intermunicipal infrastructure agreement, and outlined a realistic plan of finance. We were happy to partner with the Village on this proactive initiative and were able to assist in securing critical funds to make implementation viable, including:
NYS Office of Community Renewal – $3,600,000
NYS Water Grants – $5,000,000
DASNY Sanitary and Storm Sewer Funds – $500,000
Savings over a 5-year period due to Town and Village Water District Consolidation – $1,500,000
NYDOS Local Government Efficiency Grant for Water District Consolidation – $400,000
NYS Revolving Funds financing at 0% interest for non-grant portions of infrastructure improvements
Laberge Group was able to not only offer the necessary engineering services, but was also a trusted partner in identifying appropriate costs and obtaining the substantial funding essential to completing an implementable plan.
With over 50 years of experience working with a wide rangeof communities, we understand the challenges of successfully implementing municipal projects. To learn how Laberge Group can assist you with your community's engineering and planning needs, please call us at (518) 458-7112 or email clientservices@labergegroup.com.