Inter-Municipal Water System Upgrades for the Villages of Victory and Schuylerville
Laberge Group was retained by the the Villages of Victory and Schuylerville to provide engineering and construction management services to upgrade their inter-municipal water system. Since the early 1990's the Victory/Schuylerville Board of Water Management had been developing a plan to upgrade their water treatment system, and when the New York State Department of Health (NYSDOH) issued a consent order to comply with the "Surface Water Treatment Rule", it became vital.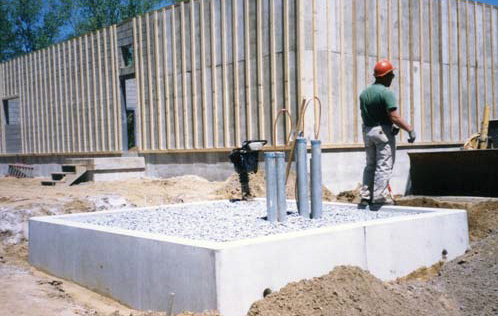 Both communities had received their water from an open reservoir fed by springs located across the Hudson River in a neighboring Town. The open system required that the unfiltered water be treated with high amounts of chlorine to ensure its safety and compliance with the requirements of the NYSDOH. Complaints of poor quality, taste and odor were logged with the Board of
Water Management. The new plan called for a new ground water source and a filtration facility in Schuylerville, along with the rehabilitation of a decommissioned plant to provide drinking water to about 2,000 Schuylerville and Victory residents.
The first of its kind for municipal use in New York State, the new plant uses Reverse Osmosis technology to treat the groundwater. It was decided that Reverse Osmosis technology would give the communities the best balance of quality and economics for their water supply.
A significant challenge of this project was its location in historic Fort Hardy Park, which includes the location of the commemorative "surrender tree", the Field of Grounded Arms, and the official British Army surrender on October 17, 1777 that marked the end of the Battle of Saratoga. Due to the historic context of this site, the exterior of the building needed to be sympathetic to the site. In addition to the exterior architecture style enhancements, the building's footprint needed to be minimized and the piping and equipment design had to be compact, reducing the chance of disturbing any historic artifacts during construction.
The Villages covered the cost of the project's $4.8 million price tag by applying for grants and zero-interest loans. The Victory/Schuylerville Board of Water Management received a $1.3 million dollar grant, and an additional $2 million in interest free loans from the New York Drinking Water State Revolving Fund (DWSRF) for drinking water projects.