LABERGE GROUP SURVEY ADDS LASER SCANNING
Laberge Group is proud to annou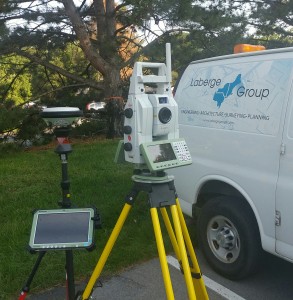 nce the recent addition of a new Leica MS60 Multistation and GS14 GNSS (GPS) receiver, both configured to the Leica CS-35 tablet.  With the addition of this equipment Laberge Group is now offering laser scanning services.  The MS60 Multistation is a Robotic Total Station allowing the deployment of a 1 man survey crew for various survey tasks.  More importantly it allows us to capture high definition 3D laser scans for the most accurate survey results while all being fully integrated with the GS14 GPS receiver allowing us to quickly and efficiently put all of our jobs on State Plane coordinates all with one data collector.  This allows for multiple jobs to be tied together over great distances as well as easy transfer into GIS and other programs for data management.
The new CS-35 tablet/data collector allows us to fully integrate all aspects of field data collection in one unit.  We can view all data within the data collector in 3D while in the field, verifying survey accuracy in real time.  It also allows us to compare conventional survey and GPS locations with the 3D point cloud collected from the MS60 Multistation.
The MS60 Multistation when used as a high definition 3D laser scanner allows more efficient and accurate data capture in less time allowing for reduced costs and time in the field.  These high definition scans can be captured simultaneously with conventional survey locations from the same setup linking the scan data directly to the survey while in the field.  Office staff can then extract as little or as much detail as needed for the project thereby reducing questions or additional field trips to collect extra data. The MS60 Multistation is great for the application of small scale scans such as, but not limited to:
Monitoring retaining walls
Monitoring and modeling of dams
Architectural details of building facades
Volumetric surveys of stockpiles
Creating TIN surfaces of roads and sidewalks
As-built of areas of complex details
As-built of pipe networks at industrial facilities
Recent scanning projects performed by Laberge Group include:
As-built and topography of the existing fueling station for the Town of Schodack Highway Department for the planning and design of relocating the fueling station.
As-built and topography of multiple intersections along Oak Street in the Village of Corinth to allow engineers to diagnose and redesign areas with drainage issues.