Zoning & Subdivision Regulations
Laberge Group was retained by the Town of Beekman to update the Town's Zoning Regulations, Zoning Map, and Subdivision Regulations. This rural bedroom community, situated in southeastern Dutchess County about 15 miles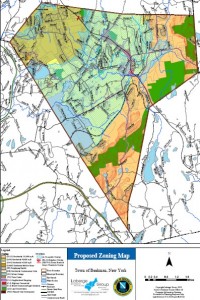 east of Poughkeepsie, has experienced substantial residential growth as farms have given way to new developments.
As a result, the Town updated its Comprehensive Plan and identified many goals and recommendations to protect these important natural resources. Laberge Group reviewed various techniques with the Town to best meet their protection needs and provided the following new regulations for the Town:
Aquifer Protection Overlay Zone.
Ridgeline Protection Zone.
Scenic Roads & Viewshed Overlay Zone.
Steep Slopes Protection Regulations.
Tree Removal Regulations.
Wetland, Waterbody & Watercourse Protection Regulations.
In addition, Laberge Group provided an innovative approach to establish regulations for moderately priced housing units. According to Dutchess County Planning & Development Department, Beekman's median family income of $87,055 could generally afford a house that costs $287,000-$315,000. However, the median price of a house in Beekman currently costs $409,000.