Comprehensive Plan. Village of Horseheads, New York
Laberge Group was retained by the Village of Horseheads, located in the Southern Tier of New York State in Chemung County, to develop a Comprehensive Plan. Many factors precipitated this decision including: the continuous declining
population of the entire market area, the movement of commerce and development away from Elmira and into the Towns of Horseheads and Big Flats, the decline of the area's industrial base, an aging of the population, and the growth of neighborhoods at risk.
Laberge Group provided the Village and Steering Committee assistance with its efforts to compile a wealth of data. Together a detailed community profile of the Village was assembled that included a summary of retail sales, housing and demographic data, as well as new information gathered from the public. A series of stakeholder interviews with individuals knowledgeable about the community were also conducted. Public input was also gained a resident survey and a business survey.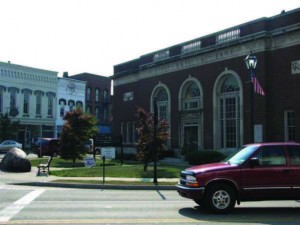 In addition, three public workshops focused on the community were conducted as part of the planning process:
Workshop #1 "Assets and Liabilities" gained insights on the current and future state of the community.
Workshop #2 "Visioning" developed solutions for issues in the Village, such as economic opportunities and enhancements to Hanover Square.
Workshop #3 "Strategy Assessment" gauged the public support for specific Plan recommendations and to reach
consensus on priorities for the Comprehensive Plan.