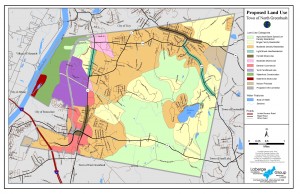 Laberge Group was commissioned by the Town of North Greenbush to prepare a final Comprehensive Plan. The Town of North Greenbush Comprehensive Plan provides an overall community framework for future public and private investment and decision-making. In its simplest form, long-range comprehensive planning includes three key activities: understanding the present state, identifying the desired community vision, and determining the best methods for achieving it.
The Town of North Greenbush, population estimated at 10,000, is located on the eastern banks of the Hudson River, directly across from the City of Albany. While the Town hosts many social and economic attractions, the lack of a Comprehensive plan had allowed for unplanned growth, infrastructure inefficiencies, traffic congestion, lack of River access, and non vibrant, aesthetically pleasing Main Avenue.
With Town leaders and the Comprehensive Plan Committee (CPC), Laberge Group began a very aggressive public  participation project inviting the community to partake in activities that judged the community's strengths, weaknesses, and opportunities, as well as identified threats to the overall quality of life. The outcome of the community input, together with the Laberge Groups assistance with land use, condition studies, and analysis along with a synergy of information gained from additional planning tools, created the basis for the Town's North Greenbush Comprehensive Plan. Laberge Group, with the CPC, facilitated the creation of the Town's newly formed vision and the development of four Policy Statements each with a number of implementation Objectives.
Policy Area – Community Resources.
Policy Area – Sustainable Growth & Development.
Policy Area – Quality of Life.
Policy Area – Regional Position & Identity.
Under Laberge Group's guidance, the North Greenbush Comprehensive Plan was unanimously adopted by the Town.