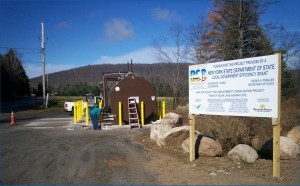 The successful implementation of Phase I caused the County to pursue Phase II which installed two new shared facilities to serve Long Lake and Indian Lake stakeholders and allowed two outdated facilities to be fully decommissioned.
The Phase II Hamilton County Fuel Consolidation Project was initiated by the Towns of Indian Lake and Long Lake which were also dealing with faulty fuel tanks and possible site contamination. To best meet the needs of these stakeholders, the County worked with the Laberge Group to develop a shared services plan to minimize the number of fueling facilities through consolidation.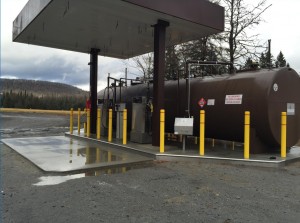 By consolidating facilities and installing fewer storage tanks, the County has not only cut back on expenses, but they have also eliminated environmental concerns that come with buried tanks. The fuel management consolidation project fully supports energy efficiency and environmental consciousness through the conservation of fuel and electricity, and through the elimination of the environmental risks inherent in multiple sites with petroleum fuel tanks. Carbon emissions have been decreased by municipal vehicles traveling shorter distances to refuel their vehicles. With the freedom to refuel at the nearest and most convenient location rather than at a municipality's "home" location, vehicles will reduce their carbon emissions by decreasing the distances traveled. The fuel management consolidation project also supports the conservation of electricity through the reduction in fuel facilities.
The project also was able to deliver enhanced environmental benefit by exceeding regulatory requirements. Laberge Group designed an innovative fuel station prototype that allowed all fuel tank storage and piping to be above ground and avoid hidden underground petroleum leaks and contamination. Designs were also sensitive to visual impacts.  Facilities were sited to be sensitive to visual impacts and colors were selected that were appropriate for the Adirondack Park.