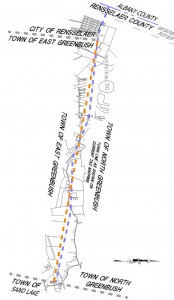 Laberge Group was retained to perform a survey of the Municipal Boundary Line between the Towns of North Greenbush and East Greenbush in Rensselaer County, New York.  The purpose of this project was to reestablish the original municipal boundary line that was created by statute from State Laws of 1854.
In 1854, the Legislature  created the 5.4-mile long boundary line forever establishing the municipal boundary between the two towns.  The boundary was originally described using several prominent dwellings  along the corridor.
Prior to beginning survey work, Laberge Group staff researched deeds, historic atlas maps and chain of title for these dwellings to assure the location of the intended dwellings.  This research included a search of the New York State archives.
Global Positioning System (GPS) technology was utilized to re-establish this boundary.  GPS was developed by the Department of Defense more than 20 years  ago for military applications.  Today it allows us to determine the latitude, longitude, and altitude of any location on the earth with extreme accuracy.
State Plane coordinates were established at the three dwelling houses as well as at the beginning and end of the re-established boundary line, and a final Boundary Survey Map was created, which is now the official documentation of the boundary.