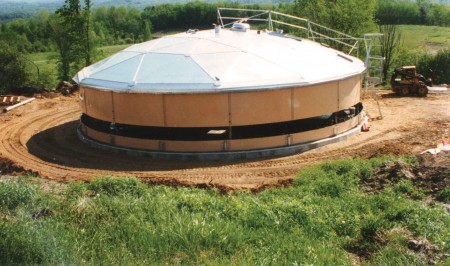 The Laberge Group was retained for a Water improvement project in Port Leyden, NY.  The Village had been fed by two spring fed open reservoirs in the neighboring hills for almost a century. Changes to the Surface Water Treatment Rule forced the Village in rural Lewis County to revise its water supply and storage.
In order to meet the requirements, and to avoid filtration, this water improvement project required the spring source to be converted to an underground infiltration gallery, upstream of the open reservoirs west of the Village. The system was designed as an alternative to a well field to avoid ongoing operational costs of wells.
A 300,000 gallon glass fused to steel tank was erected on the east side of the Village to provide adequate storage. The level in storage is controlled by an altitude valve, which senses backpressure and opens and closes accordingly without electricity.
Other improvements included replacing and looping the distribution system including a bore under an operational railway, and rehabilitation of the chlorination system and monitoring. The firm provided full services including:
Preliminary engineering.
Grant writing and administration.
Surveying.
Soils and hydrogeological investigations.
System design.
Contract drawings and specifications.
Permitting.
Bidding and contract administration.
Construction observation.
Record drawings.