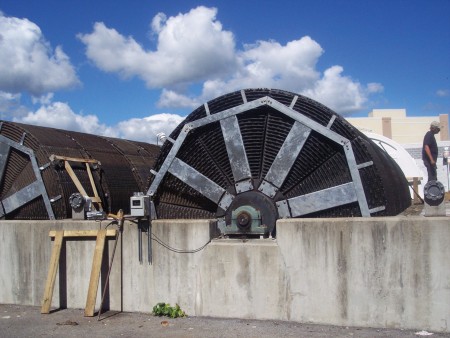 Laberge Group was retained by the Village of Kiryas Joel to perform Wastewater Plant Improvements.  We needed to solve a long-standing problem with the RBC (Rotating Biological Contactor) units at their wastewater treatment facility.
At the time, one of the three (3) RBC trains was nonfunctional and several of the units in the remaining two (2) trains were due to fail.  The structural steel media support cages were inexplicably failing and detailed investigations were necessary to identify the causes and evaluate available repair options, short of complete RBC shaft replacement, for the remaining life of the units.
Investigation revealed that QA/QC measures and controls during the fabrication and installation of the ten (10) year old equipment were lax and warranty options had lapsed.
Laberge Group wastewater plant improvements included:
Investigation of the problem history and identification of the specific causes of progressive abrasion and bolt failure due to loose bolts.
Preparation of engineering reports and funding assistance application.
Plans specification and contract documents for the recommended repairs.
Construction phase services and QA/QC inspection scoping and coordination.
Community Development Block Grant administration services through closeout.
Today these critical wastewater plant process units are all back in service and operating as designed with the repairs implemented.