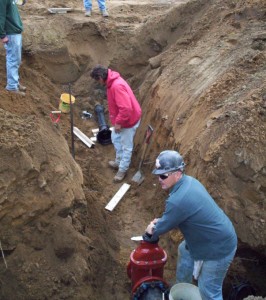 Prior to the improvements, the Village had been utilizing untreated water from the Village of Herkimer's raw water viaduct. Regulatory requirements of the Surface Water Treatment Rule required that the water be filtered or that a new source be found. In addition, a new storage facility would be required.
After an extensive hydrogeological investigation, oversized test wells were installed to identify an adequate source. The test well site chosen, while not the best for location, was the best considering hydrogeology and potential for avoiding contamination. After a successful 96-hour pump test, the site was chosen as the future well field.
Design of the improvements required coordination with planned New York State Department of Transportation highway improvements, which necessitated replacement of virtually all of the water mains within the state highway R.O.W. The level in the 240,000-gallon glass fused to a steel storage facility is controlled by means of a pressure sensor in the pump house and chlorination facility. Design of production wells included conversion of the existing large diameter test well with an appropriate gravel pack and installation of a redundant well source. The firm provided full services including:
Preliminary engineering.
Grant writing and administration.
Surveying.
Soils and hydro geological investigations.
System design.
Contract drawings and specifications.
Permitting.
Bidding and contract administration.
Construction observation.
Record drawings.