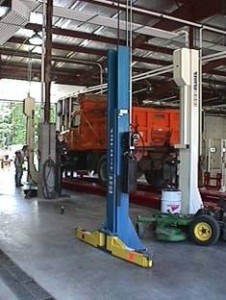 The Town of Tuxedo was faced with mounting problems associated with response time, staff inefficiencies, materials problems, and equipment maintenance problems associated with equipment being stored outdoors, in uncovered areas. The Town embarked on a program to construct a new highway garage to solve these short and long term problems. Laberge Group was engaged to provide building design (architectural, structural, mechanical and electrical) for a 20,000 square foot pre-engineered metal structure to house the following functions:
Reception area.
Superintendent's office.
Secretarial office.
Files and storage.
Rest rooms.
Staff locker/shower room.
Break room.
Equipment and parts storage.
Tool storage areas.
Two mechanical bays with a 75,000 pound four post lift, and a 15,000 pound single post lift allow the Department to service their entire fleet.
The project was completed in cooperation with the Town Highway Department who prepared the site and finalized all sitework.