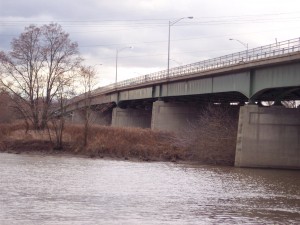 Laberge Group was retained to perform a bathymetric (river bottom) survey elevations on a section of the Mohawk River/Erie Canal shoreline in the Village of Scotia and the City of Schenectady to determine the areas where the water depth is sufficient for the installation of a recreational dock.
The final map showed both shorelines including bridges, channel markers and islands, depth of river in the channel and along the shorelines to determine the most feasible dock locations.
Global Positioning System (GPS) Equipment was installed on the boat and coordinated with the fathometer to collect data at one second intervals while navigating through the river. This data was downloaded, processed and then adjusted to the fluctuating pool elevations caused by locks along the canal system.