Town of Plattsburgh, NEW YORK


Water & Wastewater Capital Improvement Plan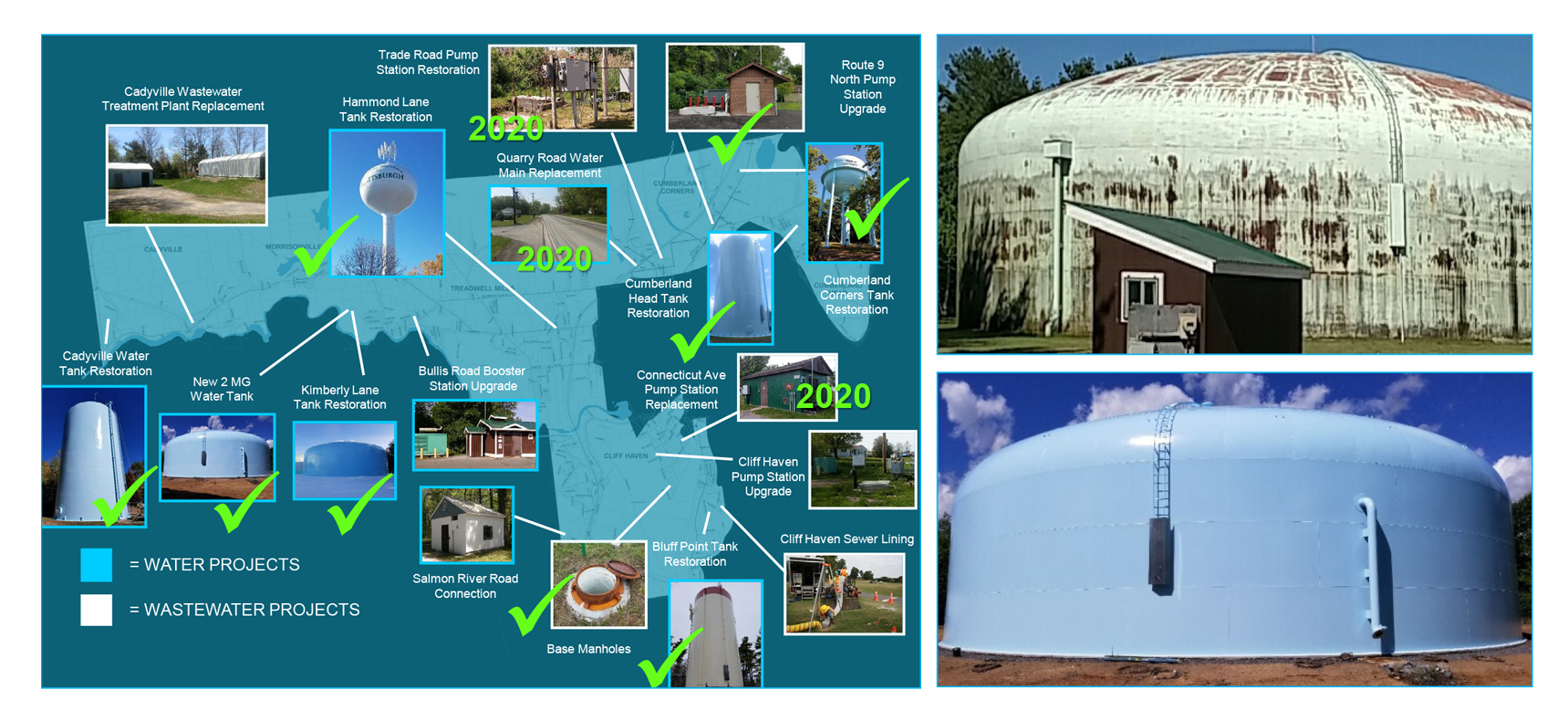 The Town of Plattsburgh's extensive water and wastewater system, much of which was constructed seventy years ago, required various improvements due to increasing age. Rather than continuing to address issues on an ad-hoc basis as they arose, the Town took the proactive step of retaining Laberge Group to assist in developing a Water and Wastewater Capital Improvement Plan. The plan is a cohesive tool that provides an inventory of assets system-wide, identifies critical issues, prioritizes needs, establishes a unified funding strategy, and stipulates a specific implementation plan.
This strategic planning tool has empowered the Town to address its long-term infrastructure issues in an efficient, methodical, and cost-effective way. The plan has enabled the rapid design and implementation of numerous water and wastewater infrastructure improvements that are vital to the Town's continued health and safety, sustainability, and economic development.
This ambitious 3 year, $24 million Capital Improvement Plan consists of 20 projects, including:
Repairs to deteriorating water storage tanks.
Water main replacements.
Upgrades to water and sanitary pump stations.
Development of additional water supply.
Incorporation of System Control and Data.
Acquisition (SCADA) equipment.
Construction of an additional water tank to serve areas with insufficient fire flow and storage.
Replacement of the Cadyville WWTP with a recirculating sand filter.
Upgrades to residential water meters to enable easier and more accurate reporting.
Manhole repair and replacements. 
In addition, Laberge Group partnered with the Town to secure more than $3.5 million in grant funding from the New York Water Infrastructure Improvement Act (NYWIIA) and the Federal Northern Border Regional Commission.
In the second phase of this partnership, Laberge Group is providing design and implementation services. These services vary by project, but include: environmental reviews, surveys, preliminary plans and final designs, permits submission, bidding services, contract administration, and construction observation. Laberge Group continues to partner with the Town to provide safe, reliable, and sustainable water and wastewater services to residents, businesses, and visitors. 
Is your community facing water, wastewater, and/or stormwater challenges, but unsure how to plan for or fund the projects needed to move forward? Get in touch to see how Laberge Group can help. As a statewide leader in these disciplines, we're happy to be a resource for you.