Town of Plattsburgh, NEW YORK


Local Waterfront Revitalization Program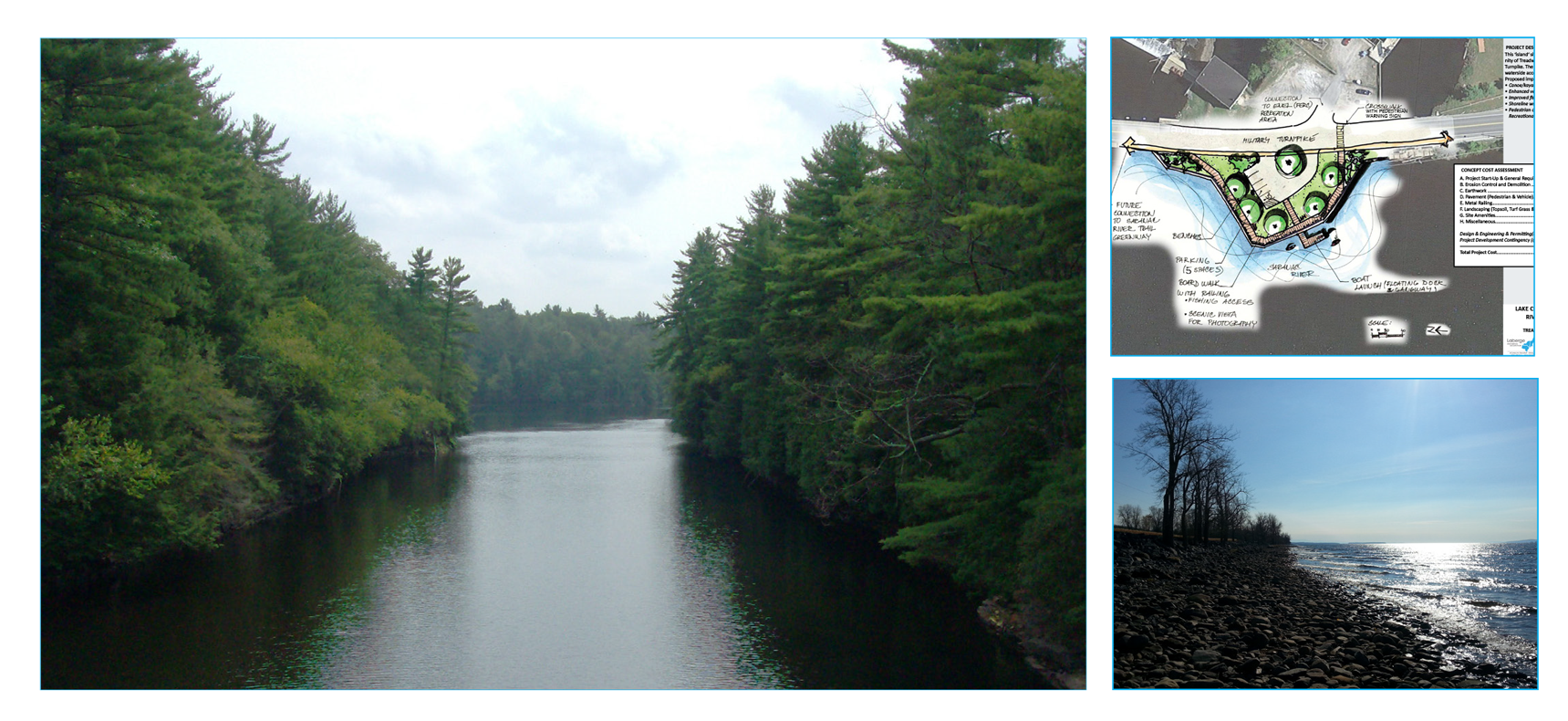 Laberge Group was retained to prepare a Local Waterfront Rehabilitation Program for the Town of Plattsburgh, NY. The Lake Champlain/Saranac River Waterfront Plan focuses on creating a strategy for revitalizing its hamlets, improving public access to the Saranac River and Lake Champlain, and creating connections between the Town's hamlet communities along the Saranac River to Lake Champlain through a greenway trail system. The Plan presents a balanced vision for growth along its riverfront and lakefront with a focus on five priority projects located within the six hamlet communities.
The six communities each contain their own unique, natural, cultural, economic and recreational characteristics. Theses communities include the hamlets of Cadyville, Morrisonville, Treadwell Mills, Cliff Haven, Cumberland Corners and Cumberland Head. The Waterfront Plan focused on an ecological approach to waterfront design in order to create desirable destinations that provide enhanced connectivity and access to the Saranac River and Lake Champlain for all people to experience and enjoy.
The Lake Champlain/Saranac River Waterfront Plan explored the most important values related to these Saranac River and Lake Champlain hamlet communities including:
Sense of Place.
Recreation.
Connectivity and Access.
Stewardship.
Growth and Development.
Regional Coordination.
Backed by strong commitment from the Town's community to revive their waterfront and create greater access to these bodies of water, the projects and recommended strategies needed to manage and revitalize local waterfront properties generated by the plan were financially aided by a grant from New York State Department of State under Title 11 of the Environmental Protection Fund. The Priority Projects and Recommendations were formulated based on the public participation process, the Project Advisory Committee's (PAC) contribution, the Town of Plattsburgh's Planning Department and the input of professional expertise from Laberge Group.
Would your community benefit from establishing a cohesive vision for the future growth and management of your waterfront? Developing a Local Waterfront Revitalization Program can empower your community to maintain and protect water quality; protect the natural environment; enhance public access to the river; provide new recreational opportunities; restore and revitalize land on the water; and stimulate economic development in your town, city, or village. 
Can you spare a few minutes now to discuss strategies that could impact the quality of life and economic opportunities for your community for years to come? Get in touch to see how Laberge Group can help. We're happy to be a resource for you.