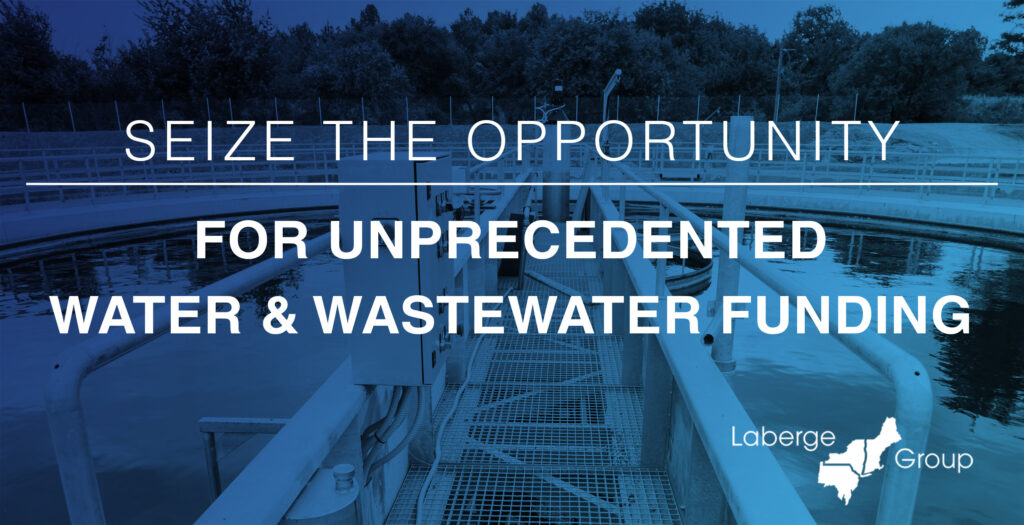 PRACTICAL STRATEGIES FOR CAPITALIZING ON
UNPRECEDENTED WATER & WASTEWATER GRANT FUNDING 
SCROLL DOWN TO DOWNLOAD A PDF OF THE FULL ARTICLE
As your community begins to prepare your annual budget, don't miss the opportunity to budget for key strategies that will prepare you to capitalize on today's unprecedented funding opportunities for municipal infrastructure!
Funding provided by the Bipartisan Infrastructure Law (BIL) coupled with Water Improvement Infrastructure Act (WIIA) funding are being invested in local communities to provide the capital dollars to leverage resources required to upgrade municipal drinking water systems, improve municipal wastewater systems and protect drinking water at its source. Is your community ready to seize this unique opportunity for water and wastewater funding?
NOTHING IS
MORE EXPENSIVE
THAN A MISSED OPPORTUNITY
The BIL and Your Community
What do you need to know about the Bipartisan Infrastructure Law (BIL) to capitalize on this extraordinary opportunity?
BIL funding for Water & Wastewater projects will be administered through NYS Environmental Facilities Corporation (EFC).
In 2022 alone, the EFC will receive $426 Million from the BIL to fund Clean Water State Revolving Fund (CWSRF) and Drinking Water State Revolving Fund (DWSRF) in order to support more water quality and infrastructure improvement projects with market rate financing, subsidized interest rate financing, or hardship interest-free financing. The BIL will continue to infuse funding into these programs for the next 5 years starting this year.
The first step in seeking State Revolving Funds is the Clean Water or Drinking Water Intended Use Plan (IUP). While the submission deadline for IUPs, which prioritize projects based on a scoring system and determines which projects can be funded, is in June, submissions can occur throughout the year so there is no reason to wait to submit your project.
As part of the BIL, new EFC scoring considerations will make some projects eligible for principal forgiveness – effectively transforming this loan into a grant in those instances.
What's the best next-step your community can take to prepare for Bipartisan Infrastructure Law (BIL) grant application success?
to download the full article for actionable next-step strategies.
MUNICIPAL BUDGET DEADLINES AND THE PROJECT READINESS IMPERATIVE
While demonstration of project readiness has become a hallmark of NY State funding scoring systems, this criterion is being given more weight – and therefore should be a higher priority to your community – due to the need for demonstrating swift and effective impact on the economy.
Waiting until grants are announced may result in missed opportunities. To increase your chances of funding success, your community will need to prepare well in advance. With municipal budget deadlines approaching, the time to allocate funds toward demonstrating project readiness is now.
Make sure your community budgets for initiatives that will strengthen your IUP score and subsequent funding applications from the competition.
Priority indicators of project readiness include development of a Preliminary Engineering Report, Feasibility Study, Environmental Review, Financing Plan/Bond Resolution, District Formation (if needed), and/or an update of your Comprehensive Plan.
FOR A PDF OF THE FULL ARTICLE
LEARN ACTIONABLE
STRATEGIES FOR DEMONSTRATING
PROJECT READINESS
To discuss how proven strategies – which have contributed to funding success in securing nearly $300 million in project funding for municipal clients since 2000 –  can help further YOUR community's water and wastewater infrastructure projects, please drop us a note using the form below or reach out to Ben Syden, AICP, Vice President at
clientservices@labergegroup.com
or
518-458-7112.
We will be happy to be a resource for you, address your questions, and discuss your needs and opportunities.