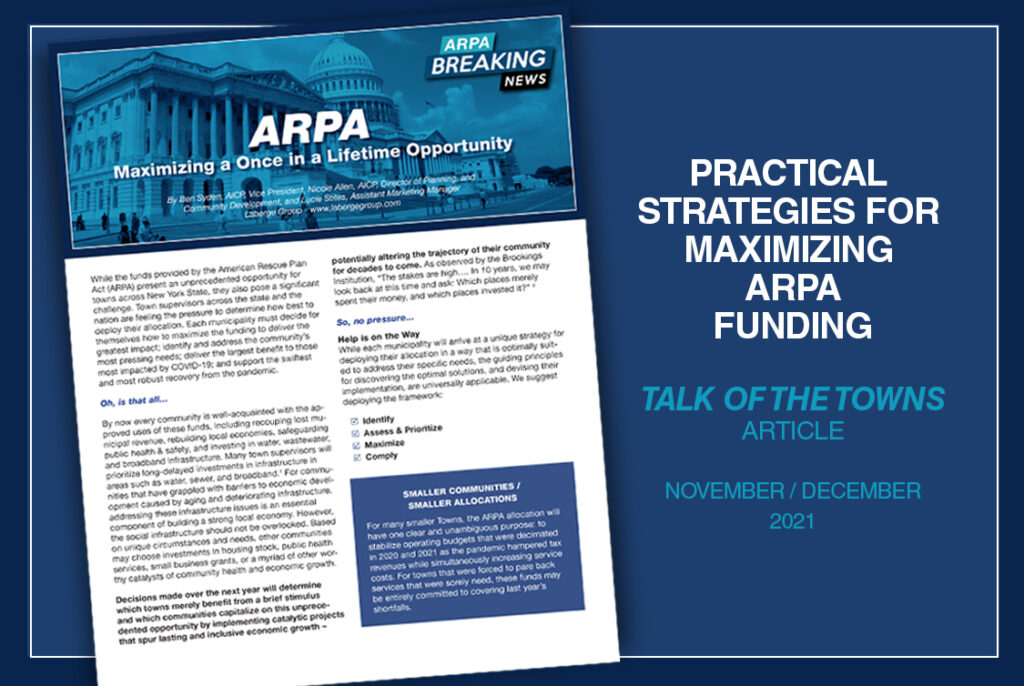 ARTICLE PUBLISHED IN "TALK OF THE TOWNS" DELIVERS PRACTICAL STRATEGIES FOR MAXIMIZING ARPA FUNDING WHILE MAINTAINING COMPLIANCE
SCROLL DOWN FOR A PDF OF THE FULL ARTICLE
American Rescue Plan Act (ARPA) funds are an unprecedented opportunity for cities, towns, villages, and counties. However, they also pose a significant challenge. Many municipal leaders are feeling the pressure to determine how to identify their community's most pressing needs, deliver the largest benefit to those most impacted by COVID-19, and support a swift and robust recovery from the pandemic.


Each elected leader is faced with deciding how to maximize the funding to deliver the greatest impact.
Decisions made in the coming months will determine which communities merely benefit from a brief stimulus and which communities capitalize on the opportunity by implementing catalytic projects that spur lasting change – potentially altering the trajectory of their community for decades.
That is a lot to contend with, but help is on the way!
We hope you will find this article – which was published in the latest issue of the Association of Towns of New York's publication, Talk of the Towns – helpful. Written by members of Laberge Group's ARPA consulting team, the article provides a top-level framework for prioritizing solutions and devising their implementation while remaining compliant with ARPA regulations.
Our ARPA consulting team are hearing from many community leaders that compliance is a major stressor, particularly since regulations governing the use of ARPA funds are still evolving and the reporting procedures are a work in progress.
The article provided in this post gives an overview of the protocol we recommend if you are managing compliance yourself, but if you would like additional help, we are available to provide compliance services to bring you and your community peace-of-mind. Simply drop us a note using the form below to start the conversation.
Laberge Group's ARPA Consulting Services include:
PRIORITIZATION AND OPTIMIZATION
Designing and implementing a needs assessment and project prioritization initiative to make sure the funds go where they're most needed.
COMPLIANCE
Conducting the funding administration and regulatory compliance required to maintain eligibility for future funding tranches.
PUBLIC ENGAGEMENT
Developing and facilitating public engagement efforts to solicit public input that can help steer funds toward the greatest need and promote project support.
LEVERAGING FUNDS
Leveraging ARPA allocations to secure additional funds by developing a "funding quilt" that combines multiple funding sources in strategic phases.
COORDINATION
Providing essential inter-agency and municipal inter-departmental coordination.
To learn about Laberge Group's ARPA consulting services – which range from public engagement to compliance – please drop us a note using the form below or reach out to Ben Syden, AICP, Vice President at 518-458-7112 or  clientservices@labergegroup.com.
We will be happy to address your questions and discuss your needs and opportunities.