TEMPORARY BRIDGE CONSTRUCTION AFTER A FLOODING EVENT IN SCHODACK, NY
When a flooding event caused by a recent rainstorm washed out the bridge to the Town of Schodack's water plant, Laberge Group collaborated with Town officials and WM. J Keller & Sons Construction Corp to address the problem – quickly! Congratulations to all team members on your swift action to stabilize the embankment, obtain the permitting for a temporary bridge, and move forward with the permanent replacement. Construction of the bridge pads for the temporary bridge is already underway.
We're proud to be part of this professional and responsive team!
Floodwater washed out the previous bridge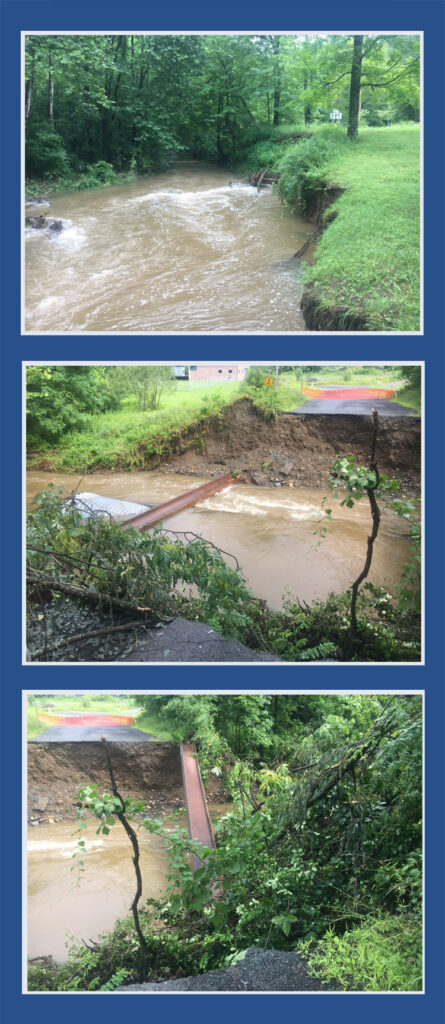 An expedited meeting was scheduled with the permitting agencies and the contractor to develop a temporary access plan and stabilize the riverbanks as fast as possible based on the materials available.


Professionals from multiple disciplines collaborated to provide the array of service required. These included field surveyors to measure the damage, civil engineers to design supporting embankments and determine that the channel was adequate for a surge caused by a large storm (better than a 500-year return interval), and structural engineers to verify that the plan could support the traffic that the Town would be sending to their water plant.


Our engineering staff shepherded permit documents through the multiple permit agencies to expedite the installation of the temporary bridge.


 The team will begin program development for the permanent replacement in October.
If infrastructure in your community has sustained damage due to flooding, Laberge Group can help. Our responsive team understands that swift action is paramount to addressing post-flood projects effectively.  
Get in touch. We're happy to be a resource for you.