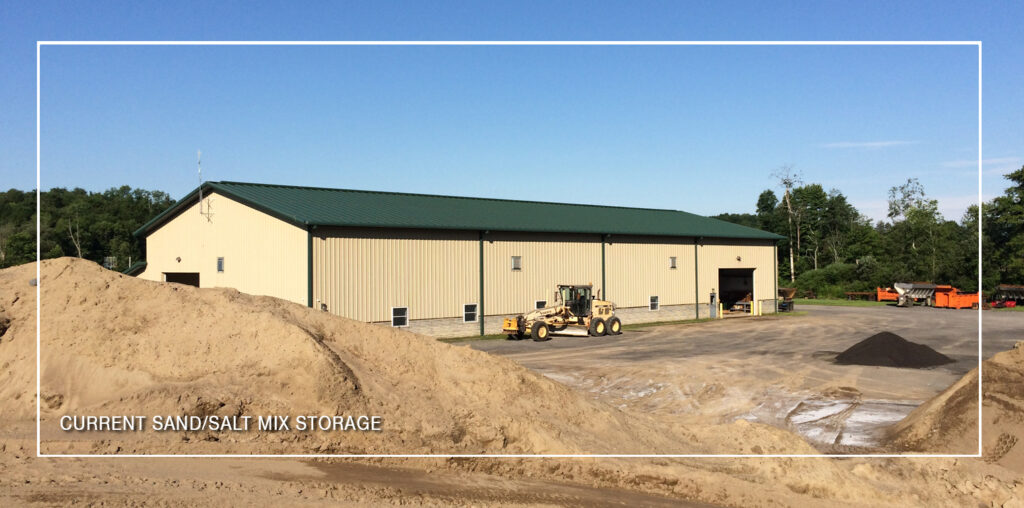 Laberge Group was retained by the Town of Russia to provide engineering and grant administration services for a new Sand and Salt Building. The new structure, which will be sited adjacent to the Town's DPW Garage will be 10,000 square feet when completed. The structure will store the Town's supply of sand/salt mix to be used for winter road maintenance, which is currently stored outside, where salt runoff is costly to the Town and poses a threat to nearby vegetation and the West Canada Creek. Both this environmental impact and the desire to protect their investment in the winter mix supply made a covered storage facility a priority project.
Laberge Group will develop schematic plans and performance specifications, create a project manual for use in permitting and bidding, assist with the public bidding process, and provide grant administration services for the Water Quality Improvement Project (WQIP) grant awarded for the implementation of this project.
Laberge Group is working with the Town to expedite the process with the goal of making the facility functional by the 2021-2022 winter road maintenance season.
If your community is considering building an Highway Department Garage, we would be happy to discuss the options available to you, including the possibility of grant funding to defray the cost if you're considering an environmentally friendly solution. Please call Ben Syden at (518) 458-7112 or contact us at clientservices@labergegroup.com to schedule a free conference call. 
To learn about another recently completed environmentally responsible construction project, click HERE to read about the environmental benefits of the new sand and salt shed in Booneville, NY.