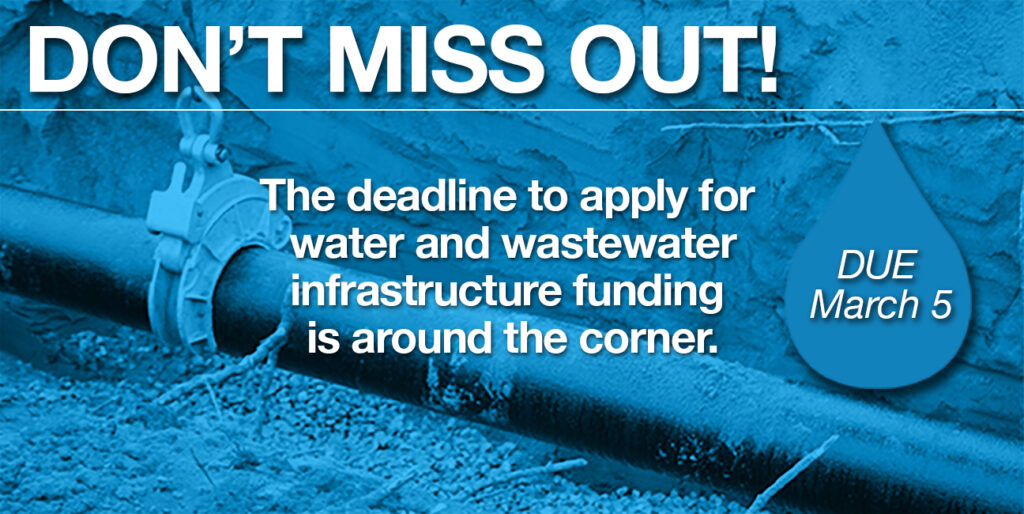 $49 MILLION IN CDBG FUNDING has just been allocated to New York State communities. A significant portion of this funding is available to support water and wastewater infrastructure projects. The deadline is fast approaching to apply for CDBG water and wastewater infrastructure funding.
All applications for funding are due March 5th, 2021, so you must move quickly to take advantage of this funding.
Don't miss this important opportunity to secure capital for a drinking water or wastewater infrastructure project that will benefit your community for generations to come. This funding could be the difference that takes your project from concept to reality!
Who should apply?
Municipalities throughout New York State that are facing the challenge of providing or maintaining quality water and wastewater services with aging infrastructure and limited funds.
To be eligible for this CDBG funding, communities (cities, towns, villages, or town improvement districts) must meet the following criteria:
51% low- and moderate-income persons
Population less than 50,000
Counties must meet the following criteria to be eligible:
51% low- and moderate-income persons.
Population less than 200,000.
This grant funding can provide financial resources for much-needed repair, rehabilitation, or improvement projects. Some projects eligible for this grant funding include:
Wastewater Infrastructure Projects
CDBG eligible wastewater projects include:
Wastewater infrastructure repair.
Wastewater infrastructure replacement.
Wastewater infrastructure system expansion.
Sanitary sewage collection and treatment. Drinking Water Infrastructure Projects
Drinking Water Infrastructure Projects
CDBG eligible drinking water projects include:
Water source development, including rehabilitation or development of new drinking water sources to replace inadequate or contaminated supplies.
Installation or upgrade of water treatment facilities to improve drinking water quality.
Drinking water storage.
Drinking water distribution, including installation or replacement of transmission and distribution mains.
Stormwater Infrastructure Projects
CDBG eligible stormwater projects include:
Projects that improve flood control and storm water drainage.
All of these projects must primarily benefit low- and moderate-income people.
If you're unsure whether your community or project is eligible under these requirements, Laberge Group can help! Please let us know your questions. We're happy to be a resource for you.
WITH THE MARCH 5th DEADLINE FAST APPROACHING – YOU MUST MOVE QUICKLY TO TAKE ADVANTAGE OF THIS FUNDING.
Contact us today at clientservices@labergegroup.com or call Ben Syden, AICP, Vice President at 518-458-7112 for a free, no obligation consultation!