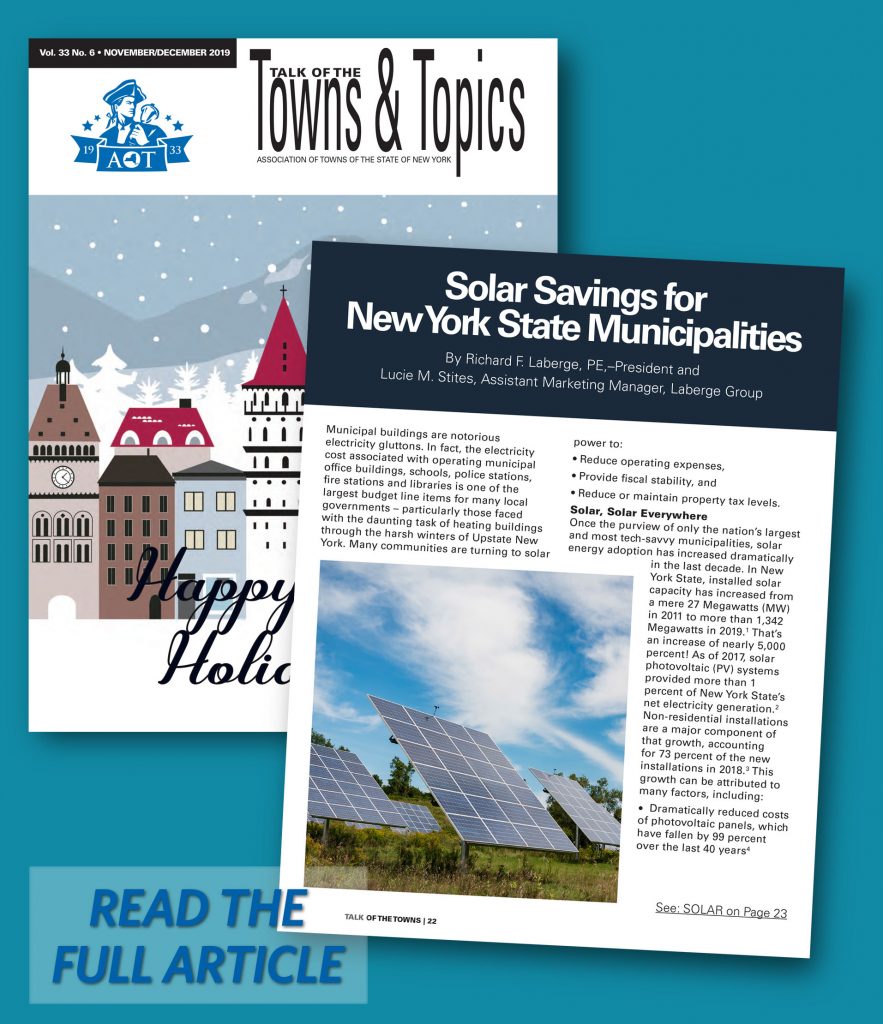 Municipalities throughout New York State are realizing significant savings through municipal solar installations. These communities are turning to solar energy to:
Reduce operating expenses,
Provide fiscal stability, and
Reduce or maintain property tax levels.
Is your community considering taking the "solar plunge"? If so, you won't want to miss Solar Savings for New York State Municipalities published in the latest issue of the American Association of Towns' magazine, Talk of the Towns.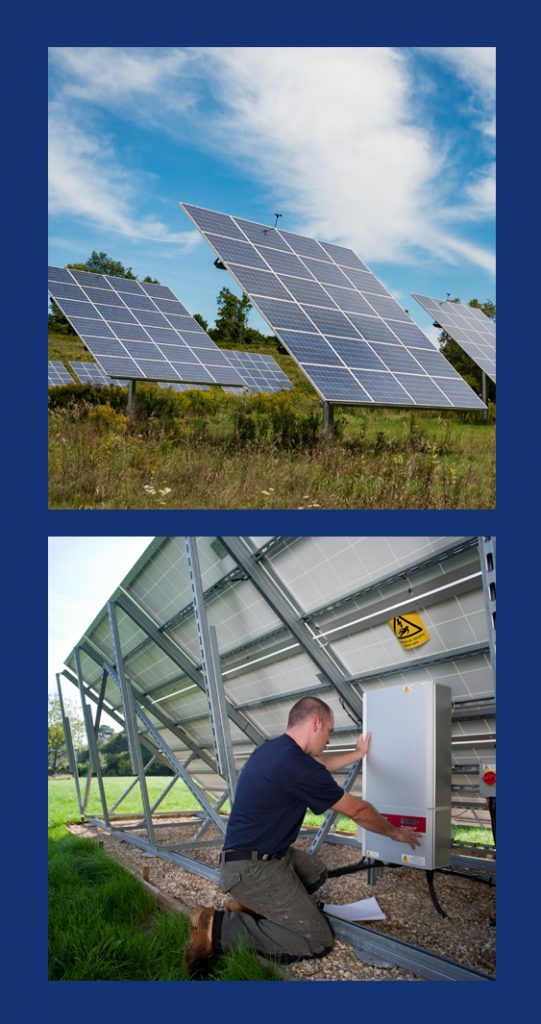 Solar energy adoption in New York State has increased dramatically in the last decade, and large-scale, non-residential installations account for the majority of that growth (73%). There are many causes for this proliferation, including:
The advent of net-metering and similar mechanisms by which excess electricity is fed back into utility grids, allowing solar owners – including municipalities – to earn credits on future energy bills
Financial subsidies and incentives, including tax credits, preferential tariffs, and Renewable Portfolio Standards (RPS), which require that a stipulated percent of the power that electric utilities sell comes from renewable resources.
Availability of state and federal green energy funding, including the NYSERDA Clean Energy Communities Program and the U.S. Department of Energy's (DOE) Energy Efficiency and Conservation Block Grant (EECBG)
Solar Energy Savings for New York State Municipalities
Municipalities and school districts throughout New York State are realizing significant savings while simultaneously reaping the non-monetary benefits of solar PV electricity production. State and Federal fiscal incentives, ­coupled with the potential to partner with private electricity providers and utilities which are required to meet RPS requirements, have made the installation of solar PV panels a worthwhile cost-savings endeavor for many New York municipalities.
What does this mean for your community? As you'd expect, potential cost savings vary from community to community and must be carefully evaluated prior to undertaking any projects.
Considering Taking the Solar Plunge?
How do you know if solar power is the right fit for your community? To learn more about the potential for solar energy savings for New York State municipalities – AND to access links to key resources that can help you and your municipality as you "test the water" – CLICK HERE to read the full article.
To discuss how insights from this article can benefit your community, call Ben Syden at (518) 458-7112 or contact us at clientservices@labergegroup.com to schedule a free conference call.