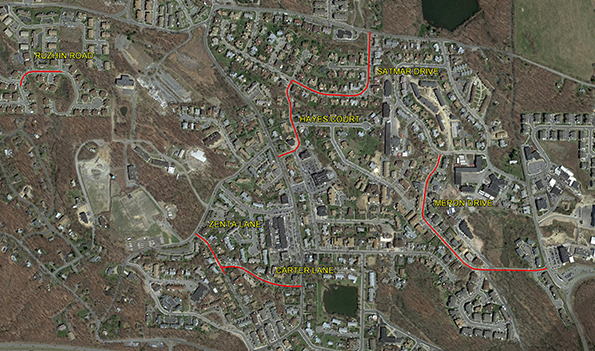 Laberge Group was retained by the Village of Kiryas Joel to design and implement an extensive street and sidewalk improvement project on several heavily traveled roads. This comprehensive undertaking will include widening and replacing sidewalks and curbs, and widening roadways.
The effected roads and pedestrian ways are located along the perimeter of the central shopping center, synagogues, and social halls. These high traffic areas had fallen into disrepair and are a priority for replacement based on economic factors and safety concerns. Areas targeted for improvements extend approximately one mile and included spans on Carter Lane, Zenta Road, Satmar Drive, Hayes Court, Ruzhin Road, and Meron Drive. Given the number of streets in need of improvement, it was determined to be cost-effective and in the best interest of the Village to widen one side of each road segment to provide parking and install a new curb and sidewalk on the same side.
Laberge Group will provide:
Surveying and mapping, including detailed information indicating how replacements tie into existing conditions.
Preparation of preliminary plans and opinion of probable construction costs for review with the Village.
Final design plans, including detail sheets, updated construction costs, and erosion and sediment control plans.
Development of a traffic maintenance and protection plan.
Bidding services, including preparation of construction documents, bid tabulations, and recommendation of award.
Contract administration, including review of contractor submittals, review of payment requests, preparation and filing of required documentation, and part-time construction observation.
In addition, Laberge Group is responsible for administering the grants associated with this project and implementing the project in compliance with grant requirements.