Zoning & Land Use Regulations. Town of Ledyard, Connecticut
Laberge Group was retained by the Town of Ledyard to update the Town's Zoning Regulations, Zoning Map, Subdivision Regulations, and Road Ordinance. The Town's recently amended Plan of Conservation and Development was used as the guide in identifying major issues and preferred land use techniques.
The firm's approach to updating Ledyard's land use regulations was a simple one: Identify, Incorporate, and Educate. We began the process by identifying the areas that needed attention. We worked with the steering committee to understand what was not working today; the definitions that needed to be added, changed, or updated; the variances that have been granted; and general problems with the code.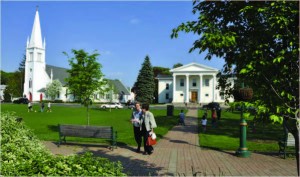 The second step was to incorporate. Associated land use regulations must be in concert with a locally adopted plan. After meeting with the steering committee, decisions were made as to the recommendations and techniques to be used to codify the plan's recommendations. Laberge Group incorporated and updated the definitions, districts, boundaries, supplemental regulations, and enforcement sections of the zoning ordinance. Upon completion, the zoning map and subdivision regulations were updated to be consistent with the changes, and design guidelines were crafted.
The final step was to educate. It is essential to solicit public opinion during the planning process to ensure public support.
A community outreach program was built into the process to educate and inform the residents about the code revisions. In
addition to the required public hearings, a public open house, and a visual preference survey were built into the process.