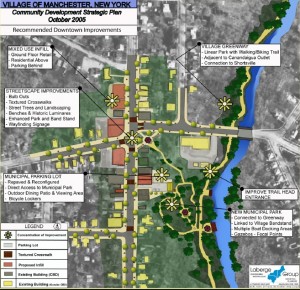 The Village of Manchester, located in the southwest portion of the Town of Manchester in Ontario County, hired Laberge Group to prepare a Community Development Strategic Plan. The purpose of the plan was to identify definitive actions to enable the Village to adapt to the socially and economically changing conditions in the Village and the region. Laberge Group, through public work sessions, developed a strategic vision that tied together the realities of a changing economy, the importance and value of open space, recreation, quality housing, and the needs and desires of a diverse population.
While this plan focused on the entire community, special design and aesthetic considerations were given to the Village's downtown and underutilized properties. Downtown Manchester, once a center of commercial and residential activity, had been experiencing a decline in recent years. Laberge Group closely examined several underutilized parcels to identify solutions to reinvigorate the redevelopment and reuse of these key properties. In addition, Laberge Group developed a map of the recommended downtown improvements to build upon the existing businesses and civic institutions that were thriving in the downtown.
Through the Village's Community Development Strategic Plan, Laberge Group developed a unique revitalization strategy that incorporated mixed-use infill, streetscape enhancements, recreational access and trails to both encourage private and public investment within the Village.