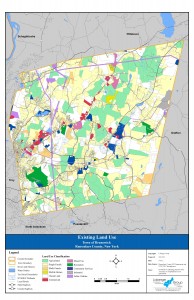 Laberge Group was retained by the Town of Brunswick to develop a Comprehensive Plan update. Bordered on the west by the city of Troy, with a population of roughly 12,000 people, the Town began experiencing suburban sprawl following the upgrade of Route 7 into a four-lane highway in the 1980s. Historically, a rural agricultural community, land use trends have recently divided the community and increased the cost of providing municipal services. An updated Comprehensive Plan is important to address where and how future development should take place, and guide the community in making sound decisions about future growth.
Laberge Group provided the Town and Advisory Committee with assistance in assembling an updated community profile that summarizes the Towns demographics, community services, housing resources, transportation network, economic profile, and natural features. The planning process incorporated public input often throughout the plan's development in order to build public consensus on key issues and common goals. With the intent to ensure representation from the community, a series of stakeholder interviews were performed and a community survey was developed. In addition, three public workshops were conducted as part of the planning process:
Business-owner Roundtable Meeting to discuss market conditions, identify issues, and solicit feedback on future business expansion opportunities.
Visioning Workshop to identify current issues and develop solutions for the current and future state of the community.
Community Goal Assessment Open House to gauge public support for specific plan goals and reach consensus on priorities for the Comprehensive Plan.