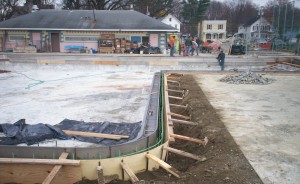 Labarge group uses ground penetrating radar to assess community pool rehabilitation project.
The Town of Hoosick operates a municipal pool located off Barton Lane in the Village of Hoosick Falls. The pool was originally constructed in 1967, and in 1997 the pool life was prolonged using a vinyl liner. The rehabilitation project aimed to revitalize a valued community resource in order to sustain and attract a vibrant population seeking the quality of life that the small community of Hoosick provides.
Laberge Group was engaged to analyze operations for rehabilitating the Town of Hoosick pool. As part of the analysis ground penetrating radar was used to verify the integrating of the pool's sub-structure. After the scan showed a solid foundation, the decision was made to proceed with the rehabilitation of the pool with a marcite liner. In addition, skimmer boxes were replaced with a continuous gutter system and balance tank, and the main drain sumps were enlarged. In order to provide positive drainage away from the pool, the pool elevation was raised slightly and a partial perimeter trench drain was
installed.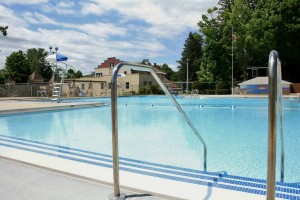 Handicap accessibility was increased with the addition of a sling lift and railings on the steps in the shallow end of the pool, and all improvements were coordinated with the Rensselaer County Department of Health, including provisions for a future deck slide. In addition to design, bidding, and construction phase services were provided.