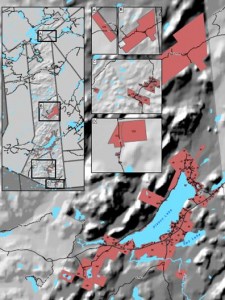 Following the completion of the Town's Comprehensive Plan, Laberge Group was commissioned by the Town of Arietta to update the Town's Land Use Code, also referred to its Zoning Ordinance. The Town of Arietta is one of only 18 communities in the Park to develop a Town Plan and Land Use Code that received approval as an 'approved local land use program' by the APA. However, Arietta's Land Use Code had not been updated significantly since its adoption in 1971.
The original regulations included the creation of 127 zoning districts, primarily around Piseco Lake to address a variety of land use concerns. As a result of this complicated and sensitive land use pattern, Laberge Group led an intensive revision process with the Town's Planning Board to review all the land uses currently allowed by district and update the code to address new uses currently allowed by the Adirondack Park Agency or trending in New York State.
Laberge Group coordinated the full review of the Zoning Ordinance on behalf of the Town with the Adirondack Park Agency and completed the necessary State Environmental Quality Review. As part of the adoption process the Laberge Group facilitated two public hearings to gather comments on the Zoning Ordinance. Public comments were reviewed with the Town Board and incorporated into the Final Zoning Ordinance prior to its adoption by the Town.