Cooper's Cave Island Access & Pedestrian Bridge
Laberge Group provided survey, engineering, and architectural services to create public access to Cooper's Cave Island on the Hudson River via an access drive, parking and walkway, and pedestrian bridge.
The project created a public space sensitive to the historical themes and "the unique sense of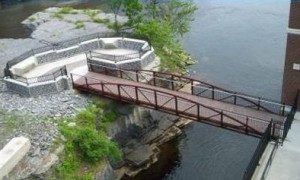 place" evoked by James Fennimore Cooper in Chapter 5, of "The Last of the Mohicans," while providing a secure terrace area on the island with appropriate historical displays, signage, lighting, and landscaping.
The project also included a recommendation for Public Art to serve as a focal point, i.e., sculpture, diorama, photo iconographic, etc., and convey the site's archeological significance.
Preliminary design services included developing design alternatives, evaluating social, economic and environmental impacts associated with the construction of the site and preparing the design report for NYSDOT approval.
Final Design included layout and details of the access drive, retaining walls and pedestrian bridge (abutments, superstructures, etc.), concrete observation platform, access gate, drainage, and interpretive signage.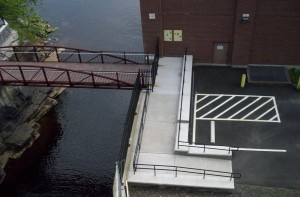 The site of the historically famous Cooper's Cave, which can be seen from the bridge, was made famous by James Fenimore Cooper in the first American novel, "The Last of the Mohicans". In Chapters V and VI of that novel, Hawkeye, the Scout, shoots the rapids below Glens Falls in a canoe, and hides his party in the cavern just below the falls. The cavern can be seen to this day.
The book contains an accurate description of the general area and the falls themselves plus several notes by Fenimore on the appearance at the time he wrote the book. "The rocky island and the two caverns," Fenimore wrote, "are well known to every traveler, since the former sustains a pier of a bridge which is now thrown across the river immediately above the falls."