Want to get involved in planning the future of Easton? Great!
We need your ideas to make this a successful plan.
Upcoming Opportunities for Public Input
YOUR INPUT AND IDEAS ARE VITAL in order to help shape the future of our community. Join us…
PUBLIC MEETING
Dates: February 4, 2023
Location: Town Hall, Burton Hall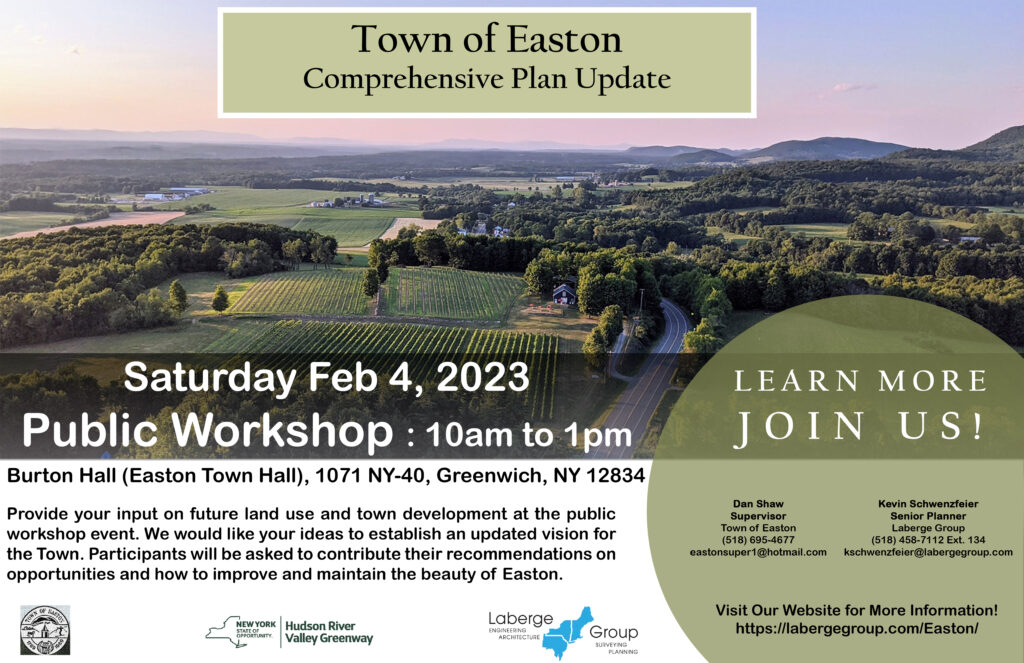 Watch this website for updates about upcoming public events.
Visit the Town's "ENVISION EASTON"

Interactive Information Booth at the Washington County Fair, August 22nd – August 28th, 2022.

Bring your neighbors, friends, and family with you to public events!
Encourage your neighbors, friends, and family to visit this site and get involved.
Put forward your questions, comments, and ideas using the 

QUESTIONS AND COMMENTS

 form.
Fill out the community Survey HERE.
Visit the "Public Meeting"  at Easton Town Hall, Burton Hall, on February 4th, 2023.
Please share this information with friends, neighbors, family, and colleagues who may be interested and ask them to visit this website for additional information.
Meeting materials coming soon. 
Comprehensive Plan Committee
Burton Hall
1071 State Route 40
Easton, New York
 518-692-2678
Laberge Group
Nicole T. Allen, AICP,
Director of Planning and Community Development
4 Completer Drive West
Albany NY 12205
518-458-7112
nallen@labergegroup.com