Thank you for helping to shape the future of the Village of Hempstead.
Many thanks to all those who took the opportunity to provide insights about the community as it is today, opinions about where the community should be heading, and ideas about how to get there. Your participation during public workshops has the potential to help shape the Village of Hempstead community for years, decades, and generations to come.
PUBLIC VISIONING WORKSHOP
WEDNESDAY, SEPTEMBER 7th , 2022 – 7:00 p.m.
115 James A. Garner Way, Hempstead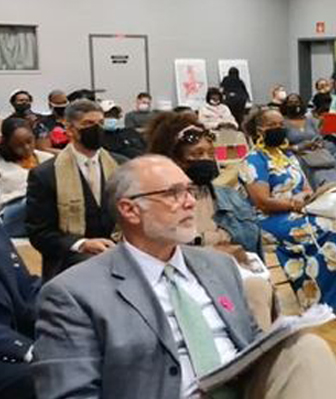 Discussed what you, as members of the community, see as the challenges facing Downtown Hempstead as well as the opportunities for economic development
Discussed your "vision" for Downtown Hempstead, as well as steps you think will help us get there
Explored strategic sites and discussed strategies and catalytic action that can help achieve quality downtown revitalization
Discussed resource needs, potential collaborators, and possible priorities or sequence
Previous Public Participation
Click the image below to view graphic representations of responses provided to several questions posed during the well-attended and productive 2021Public Visioning Workshop.
Important themes and priorities that emerged during the 2021 Public Visioning Workshop  informed the development of potential goals and strategies that were presented for public consideration in the subsequent public participation meeting. Affordable childcare, which was discussed both in stakeholder roundtables as a priority for employers, and at the Visioning Workshop as a priority for residents, is an important component of this rendering developed for a transformative project under consideration for 100 Main Street.
CLICK ON THE IMAGE BELOW TO ENLARGE IT.
Please share this information with friends, neighbors, family, and colleagues who may be interested and ask them to visit this website for additional information.
Updated September 19, 2022