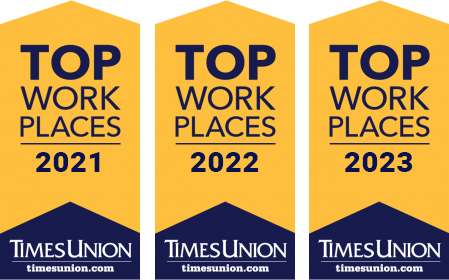 Laberge Group is proud to have been named a Times Union Top Workplace for the third year in a row!
The strengths for which Laberge Group was selected as one of Albany's Top Workplaces include work/life balance, collaboration, growth opportunities, opportunity to make meaningful contributions to projects, and feeling that the work we do makes a difference.
We are very proud that our employees feel these traits make Laberge Group a great place to work!
Here are some of our employees' comments:
"Ownership is hands on – working directly with all the staff regardless of their position. It creates an environment that promotes team effort to achieve a particular project's goal."
"The firm's dedication to providing exceptional service to our client communities means that I feel good about the work that I do every day. The firm is continually adapting - both to serve our clients and to my benefit as a team member."
"Team leaders are always looking for the best solution to a client's problem - and it has been made clear that the best ideas can come from anyone. This environment makes it easy for me to speak up with ideas that can contribute to delivering the best work product."
"There is schedule flexibility that fosters a healthy work/life balance. As a family firm, the management team works with us to make sure that we're able to balance family needs with our work load by working remotely or working flex hours when appropriate."
"Much of our work assists communities with infrastructure improvements to make our client communities better. There is a lot of satisfaction in having our plans constructed, come to fruition, and improve people's lives."
We are currently hiring for the following positions:
BE PART OF An award-winning TEAM THAT IMPROVES COMMUNITIES
Laberge Group's national award-winning team is committed to solving the most difficult problems and addressing the most pressing needs of our municipal and private clients. The firm's mission and environment offers dedicated professionals a rewarding opportunity to make a difference.
COLLABORATE within a dedicated & innovative team
To find innovative, efficient, and cost-effective solutions for our clients, our teams work collaboratively to tap the ingenuity and creative contributions of each team member. While working toward our clients' successes, you'll be building your own.
benefit from work/life FLEXIBILITY
Laberge Group is supportive of work/life flexibility. A number of our employees work flex hours and/or work from home either part or full-time.
join a close-knit work environment
From delicious annual traditions like our chili cook-off and Pi day celebrations, to ski outings and happy hours, Laberge Group is a team both in and out of the office.
We also join in giving back to our community, supporting the important work done by local organizations including Toys for Tots, Girls on the Run, the Susan G. Komen Foundation, and more with financial contributions and hands-on activities.
GIVING BACK
TOYS FOR TOTS Each holiday season, Laberge Group team members support the Capital Region Toys for Tots. This wonderful organization collects new, unwrapped toys and distributes the gifts to children in need throughout the region. We are proud to play a small part in spreading hope and joy during this season of giving.
GIVING BACK
GIRLS ON THE RUN Laberge Group is pleased to support Girls on the Run – Capital Region. This life-changing program for girls in 3rd through 8th grade inspires girls to recognize their inner strength! The organization teaches life skills, instills healthy habits, and builds confidence using a fun, experience-based curriculum which integrates running.
GIVING BACK
SUSAN G. KOMEN FOUNDATION Each year, Laberge Group team members show support for Breast Cancer Awareness Month. We care deeply about showing support for those diagnosed with breast cancer, as well as helping to further the work being done to find a cure, improve prevention methods, and develop more effective treatment options.
Medical insurance.
Dental insurance.
Vision insurance.
401K plan.
Life insurance.
Paid holidays.
Paid time off.
Long-term disability.
Flexible benefits plan.
Employee candidate referral bonus.
Professional registration fees.
Professional society dues.
Tuition reimbursement.
Continuing education program.