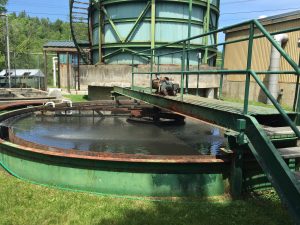 The Village of Corinth is a small community located on the banks of the upper Hudson River, the gateway to the Adirondack Park. Once a thriving community, the Village has been experiencing an economic decline due to the loss of employment opportunities in the area – the primary decline caused when the International Paper mill site was closed in 2002, eliminating 300 jobs.
Laberge Group was retained by the Village to assist in securing a $1,000,000 Community Development Block Grant (CDBG) and a $5,000,000 NYS Water Grant toward the replacement of their obsolete wastewater treatment plant. The Village had to replace the old plant, or be subject to a consent order from NYS Department of Environmental Conservation. In addition, the upgraded wastewater plant is critical to the Village's housing and business development, as well as growth in its tourism industry. Construction of the plant is an opportunity to aid in the redevelopment of the long-vacant site of the former International Paper Site, and spur downtown revitalization as the Village would now have the capacity
to accept increased wastewater flows and process them cleanly and reliably.
Laberge Group coordinated with the NYS Office of Community Renewal (OCR), and the NYS Environmental Facilities Corporation (EFC), to co-fund this multi-million dollar project.
The proposed project is construction of a new, 0.7 MGD wastewater treatment plant next to the existing plant along the Hudson River. Not only will the project have incredible impact on the economy, business development, and revitalization of the Village, but also benefits the environment as the new plant, built to today's standards, would release cleaner effluent
into the Hudson River than the existing 1970s plant.
This funding application was part of a series of grants Laberge Group helped to secure to update the Village's sewer
system, including:
Both the Drinking and Clean Water State Revolving Funds at 0% interest
NYS Water Grants
CDBG Funds
DASNY Sanitary and Storm Sewer Funds