Grant Alert: $255 Million in Water & Wastewater Grants Available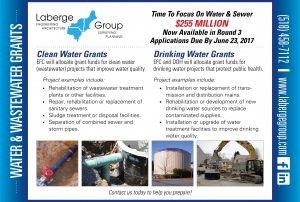 Governor Andrew M. Cuomo announced $255 million in funding for critical drinking water and wastewater infrastructure upgrades is now available. This funding is part of the $2.5 billion Clean Water Infrastructure Act of 2017.
This includes $30 million available for the new Intermunicipal Grant Program (IMG) program, which will provide grants for water quality infrastructure projects to be undertaken by two or more cooperating municipalities.
---
All applications for funding are due by June 23, 2017.
---
EFC will allocate grant funds for clean water (wastewater) projects that improve water quality.
Project examples include:
• Rehabilitation of wastewater treatment plants or other facilities.
• Repair, rehabilitation or replacement of sanitary sewers.
• Sludge treatment or disposal facilities.
• Separation of combined sewer and storm pipes.
EFC and DOH will also allocate grant funds for drinking water projects that protect public health.
Project examples include:
• Installation or replacement of trans-mission and distribution mains.
• Rehabilitation or development of new drinking water sources to replace contaminated supplies.
• Installation or upgrade of water treatment facilities to improve drinking water quality.
We can help.
 Securing funding is critical to the success of any municipal project. Laberge Group can assist in preparing a grant application customized to your needs. Since 2000, we are proud to have assisted clients in accessing over $175 million in funding. Contact us today at
clientservices@labergegroup.com
or call Benjamin Syden, AICP, Vice President at 518-458-7112 for a free, no obligation consultation!