Laberge Group is proud to announce the completion of the Albany County Shared Highway Services Study. Partially funded by a grant from the New York State Department of State, Local Government Efficiency (LGE) Grant Program, the Countywide Study identifies opportunities to share highway services, reduce operating costs, and generate efficiencies that will enable the County and its municipal partners to invest in necessary future capital improvements, while minimizing property taxes.
The County and local governments provide many vital services to over 300,000 residents countywide and are principally responsible for maintaining critical public infrastructures such as roads, bridges, and public water and sewer systems. During recent periods of fiscal stress, it has been increasingly difficult for local officials to fund daily highway operations and perform needed infrastructure maintenance. In the last decade, the County and its local municipalities have felt the strain of funding shortfalls that have not kept the pace with rising construction and energy-related costs.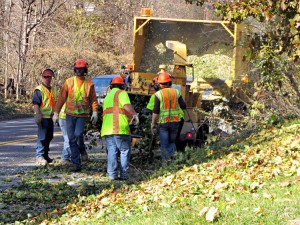 The functioning core infrastructure is vital to the County's quality of life, future economic prospects and competitiveness. In order for the County to respond to changing economic conditions, meet the needs and desires of a diverse population, and continue to be sustainable, the County hired the Laberge Group to develop the Study along with the Shared Highway Services Steering Committee made up of municipal leaders and public works/highway department heads. The study methodology included frequent public meetings which were covered by various local news organizations, and the project was received optimistically throughout the region (see attached newspaper article).
According to Albany County Executive Daniel P. McCoy, "this Shared Highway Services Study is already a success! Winter weather is here and it is crucial that we are proactive in implementing what we have learned from this study. We can save taxpayers money while maintaining or improving the quality of our highway services through partnerships."
The Executive Study highlights a number of initiatives and money saving techniques that can be made through partnerships.
Click Here to view the study.